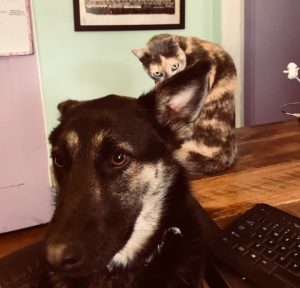 We, Americans, love our pets, most particularly dogs and cats as Youtube videos views can attest. Unsurprisingly this trend means that our customers are increasingly ordering models featuring our furry friends (see my 2 co-workers on the right).
Create Socks is proud to offer fully personalized custom dog socks in various styles including the popular ankle, crew, knee-high, all-over, dress and athletic models. All we need is your design, preferably a drawing for best results or a picture, photo of your pup which we will then use to make your socks. Please note that we are a real custom wholesale manufacturer, which means your model will be made from scratch just for you – you are not limited to a few pre-made templates like most so-called custom companies out there…
To find out how we can help you, feel free to contact us using the form below!